Pentacon Praktica LB 2
Tags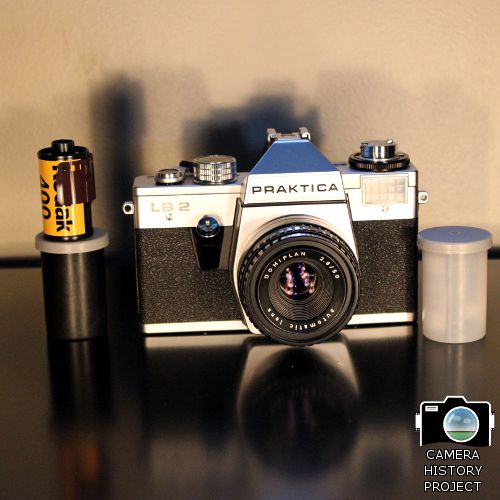 Pentacon Praktica LB 2
---
This camera came from the Swap O Rama in Alsip, IL on June 23, 2013. Mama Lerner sent me a text around 10 and asked if Bob and I wanted to go to some flea markets. I will admit, we were still in bed! I rolled over and asked Bob if he wanted to go and he said, "it sounds fun". So we hurried out of bed because the first flea market ended at 1. We went to McDonalds for breakfast, after worrying it was too late for them to serve it, but we were in luck! Off we went to meet Bob's parents and Sheri. The first flea market we went to was in Tinley Park but they didn't really have anything. The second flea market was the Swap O Rama. It had been years since I have been there! After being there for a while, it was actually Pa Lerner that spotted the table with cameras. He came back to Bob and me and brought us there. So Bob and I were looking at these cameras, and boy were there a lot of them! I personally know Bob likes the Praktica cameras and I spotted one. I was talking to the seller about it and he originally wanted $35 for it. And honestly, that was a good price. But since we do have a wedding coming up, we have been watching our spending. So I told the guy, "oh okay" and told him I wasn't interested. He then proceeded to tell me that he would take $20 for it. Now that sounded better! But again, because I'm pretty cheap right now due to our wedding, I asked him if he would take $15. At first, he said he couldn't because HE bought it for $20. He kept looking at Bob and was telling him to give me the money to buy it. But I said "no" and said all I had was the $15. And he said he would take it! Honestly, it was a great price for this camera. He could have definitely gotten the $35 he was originally asking for. But the one thing I DO feel guilty about was that he kept saying I looked like an honest person and if I said I didn't have the whole $20 he believed me because "he had been in business for over 30 years!" I suppose I did have the whole $20 but $15 sounded like a much better price! So we have now acquired a Praktica LB 2!
General Information
| | |
| --- | --- |
| Years Made | 1976-1977 (46 to 47 Years Old) |
| MSRP | $60.44 ($240.45 2012 Dollars) |
| Film | 35mm Film |
| Weight | 556.00 g (1 lb, 3.61 oz.) |
| Date Acquired | June 23rd, 2013 |
| Owner's Manual | Available |
| Quantity Produced | 64,984 |
| Country of Manufacture | German Democratic Republic |
Features
| Tripod Socket | Integrated Flash | Auto Focus | Self Timer | Date Back | Hot Shoe | Cold Shoe |
| --- | --- | --- | --- | --- | --- | --- |
| Yes | No | No | No | No | Yes | |
| | |
| --- | --- |
| Shutter Speeds: | Bulb, 1/1, 1/2, 1/4, 1/8, 1/15, 1/30, 1/60, 1/125, 1/250, 1/1000 |
| Shutter Type: | Metal Focal Plane |
| Aperture Settings: | Dependent on lens |
| Light Meter: | Integrated decoupled analog light meter using a selenium cell |
| Lens Mount: | M42x1 |
| ISO Speeds: | 6, 12, 25, 50, 100, 200, 400, 800, 1600 |
| Viewfinder: | SLR Microprism and Fresnel Lens Center w/ ground glass surround |
Technical Notes
The Praktica LB 2 is a 35mm SLR Film Camera with a M42 lens mount. Features include Bulb mode to 1/1000 shutter speeds, hot shoe, integrated decoupled light meter, and focal plane shutter.
Add a Comment
---
The camera information presented on these pages is sourced from all over the internet, as well as with the models that we have purchased. As always, it is possible there are errors, omissions, or completely incorrect facts. With this being said, leave a comment with any information you may have, and we'll get it on the site!
---
Camera History Project
This website is the culmination of years of antiquing. My wife and I enjoyed travelling around the United States, stopping at various antique shops and finding different cameras. Since 2012, we have collected hundreds of cameras, and there are some that we have, but that have not made it online yet. When the real world slows down, we plan to resume our hobby! Feel free to check out our online collection, and using the comment system, let us know which you've had and which is your favorite!