Kodak 1A Autographic Junior
Tags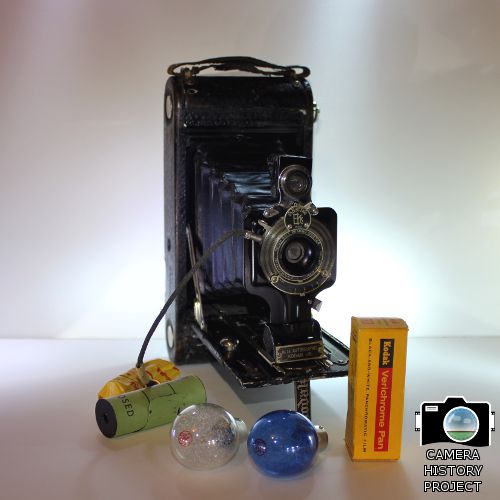 Kodak 1A Autographic Junior
---
On Sunday, March 3rd 2013, after our mini getaway to Tennessee, we were driving on our way home. On the way, we saw a sign on the expressway in Indiana advertising an antique shop. We were making really good time on the way home, we decided to stop. We got off the expressway and tried to find it. We finally found it in a little town and there was a sign on the door saying to call to be able to come inside. All we could think for the reasoning of this is that it's expensive and long to sit there all day in an antique store. The owner probably lives in town and if somebody is interested in looking around, he will come to the store and open it up. Well, we didn't want to do all of that. Instead, we hopped back on the expressway slightly disappointed. Not soon after, we found another sign and drove to the next store. This sign kept talking about this great antique store called Jim's Antiques. On the way to Jim's Antiques, we passed another antique store but decided to keep going. When we pulled up to it, there was a house with a building next to it which was the store. We went inside and there really wasn't anything in there. It was so skimpy looking inside and the lady was talking to somebody else and didn't even say hi. It didn't take us that long to decide to leave. We decided to backtrack and go to the antique store we passed and lo and behold, a real antique store! This store was a house that the store owner had bought off of an old lady. It had rooms with furniture still and everything. And guess what this man's name was? JIM! We found him! He actually owned both stores and the woman before and the other store was his wife. He was a really nice man. We found a couple of cameras we were definitely interested in, which were the Polaroid 95a Landcamera and the Kodak 1A autographic. Jim charged us $35 for the Landcamera and $10 for the Autographic camera, which was not too shabby! We didn't have any cash on us and I asked him if he would take a check and he said he would, which is very surprising nowadays with people counterfeiting checks and us being out of towners. But he said we looked like honest people and he wasn't worried about it. The Landcamera included the bag, bulbs, and flash. A very fun way to break of the monotony of driving straight home!
General Information
| | |
| --- | --- |
| Years Made | 1914-1927 (96 to 109 Years Old) |
| MSRP | $24.00 ($542.06 2012 Dollars) |
| Film | 116 Film |
| Weight | 755.00 g (1 lb, 10.63 oz.) |
| Date Acquired | March 3rd, 2013 |
| Owner's Manual | Available |
| Country of Manufacture | USA |
Features
| Tripod Socket | Integrated Flash | Auto Focus | Self Timer | Date Back | Hot Shoe | Cold Shoe |
| --- | --- | --- | --- | --- | --- | --- |
| Yes | No | No | No | No | No | No |
| | |
| --- | --- |
| Shutter Speeds: | Bulb, Time, 1/25. 1/50, 1/100 |
| Shutter Type: | Ball Bearing Shutter |
| Aperture Settings: | Four markings, no F-numbers |
| Lens Mount: | Fixed |
| Viewfinder: | 45 Degree Mirror |
Add a Comment
---
The camera information presented on these pages is sourced from all over the internet, as well as with the models that we have purchased. As always, it is possible there are errors, omissions, or completely incorrect facts. With this being said, leave a comment with any information you may have, and we'll get it on the site!
---
Camera History Project
This website is the culmination of years of antiquing. My wife and I enjoyed travelling around the United States, stopping at various antique shops and finding different cameras. Since 2012, we have collected hundreds of cameras, and there are some that we have, but that have not made it online yet. When the real world slows down, we plan to resume our hobby! Feel free to check out our online collection, and using the comment system, let us know which you've had and which is your favorite!