Generic Instantload
Tags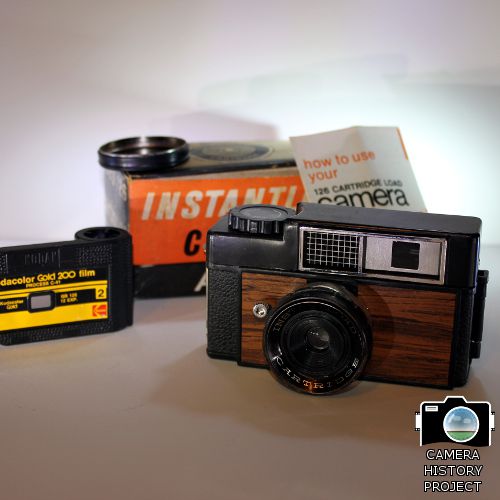 Generic Instantload
---
This camera I found on Ebay and loved it because it came with the original box, manual/instructions, lens cap, wrist strap & even the original plastic bag. I love finding the old cameras with the original packing. It makes it feel more "complete" and it usually is a little bit harder to find. This camera was originally selling for $19.95 but I made an offer for $9.95. The seller counter offered for $12.95 and a deal was made! It was in Pennsylvania before it made it to us.
General Information
| | |
| --- | --- |
| Film | 126 Film |
| Weight | 89.00 g (3.14 oz.) |
| Country of Manufacture | Hong Kong |
Features
| Tripod Socket | Integrated Flash | Auto Focus | Self Timer | Date Back | Hot Shoe | Cold Shoe |
| --- | --- | --- | --- | --- | --- | --- |
| No | No | No | No | No | | |
Add a Comment
---
The camera information presented on these pages is sourced from all over the internet, as well as with the models that we have purchased. As always, it is possible there are errors, omissions, or completely incorrect facts. With this being said, leave a comment with any information you may have, and we'll get it on the site!
---
Camera History Project
This website is the culmination of years of antiquing. My wife and I enjoyed travelling around the United States, stopping at various antique shops and finding different cameras. Since 2012, we have collected hundreds of cameras, and there are some that we have, but that have not made it online yet. When the real world slows down, we plan to resume our hobby! Feel free to check out our online collection, and using the comment system, let us know which you've had and which is your favorite!